Reduce paperwork, save time and be compliant
With a cloud based, fully integrated, compliance management system combining Quality, Health & Safety, Environmental & Infomation Security

Reclaim your precious time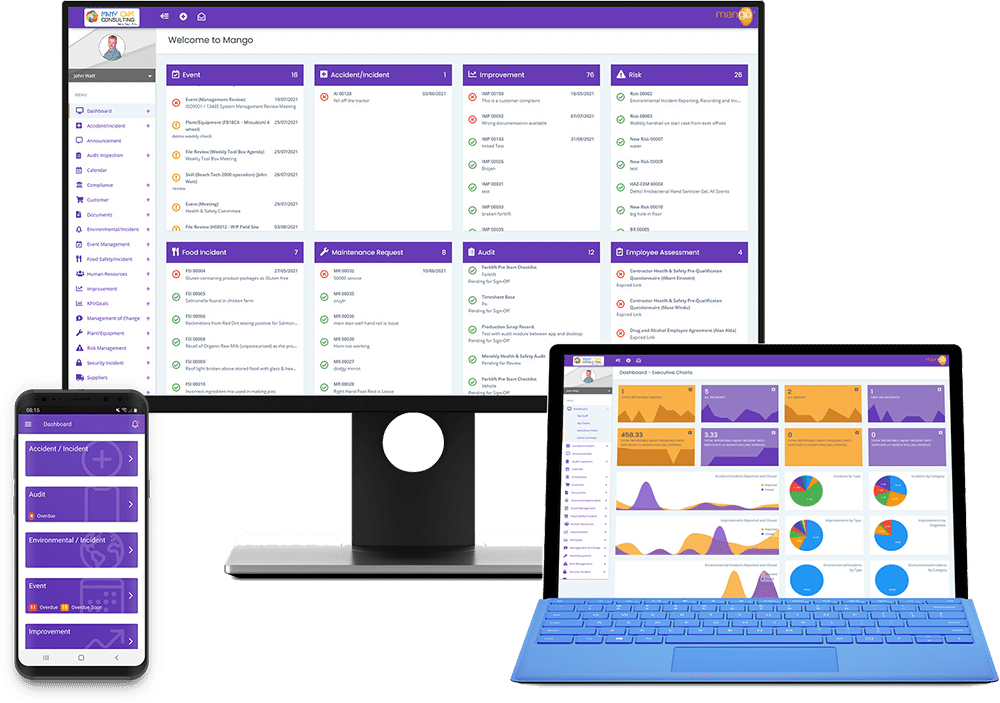 Easily Meet all your ISO Standards requirements
Save time, cost, frustration, effort duplication and rework by combining all of your individual ISO Systems into one single integrated system.
Mango is designed from the ground up to comply with the requirements of ISO9001 making it simple to meet the various requirements of the standard. Getting rid of all those individual spreadsheets and paper systems.

To create a well run Food Safety system you need a well designed system. Mango creates a structured system that lets you simply control the requirements of your business.


Medical Device manufacturing requires critical attention to detail and systems. Keeping your QMS in control never been so critical or simple.

Mango makes it simple to meet the needs of a great Health & Safety Management System which gets everyone involved and active in your system while giving you the reporting you need.



In today's digital environment having a well managed Information Security system is critical. ISO 27001 requires organisations to develop, implement and maintain a controlled system.


It can be hard for any business to run an effective Environmental Management System. Mango removes the random and haphazard way of running your systems.


AS9100D for aerosapce & defence Quality Managemety requires organisations to develop, implement and maintain a controlled system. Mango makes that simple.
See Mango In Action
Combine all of your compliance requirements like Health & Safety, Quality, Environmental, Information Security, HR, Maintenance & Auditing systems into one single QHSE cloud based system.
Reclaim your precious time
What People Are Saying About Mango
Don't just take our word about how great Mango is, here is the feedback from some of our users.
Shelley D.
Quality Manager
Ian Prosser
Systems Manager, Hovey Group
If you want to check out more independent feedback on how great Mango is head to
Capterra.com
to hear what others think or you can check out a range of case studies
here
direct from the end users.
See Mango In Action
Make a booking now to see how simple it is to integrate your systems, reduce paperwork, save time and be compliant.