It's aways good to understand exactly what you get for your money, so Mango makes that simple as well.

Reclaim your precious time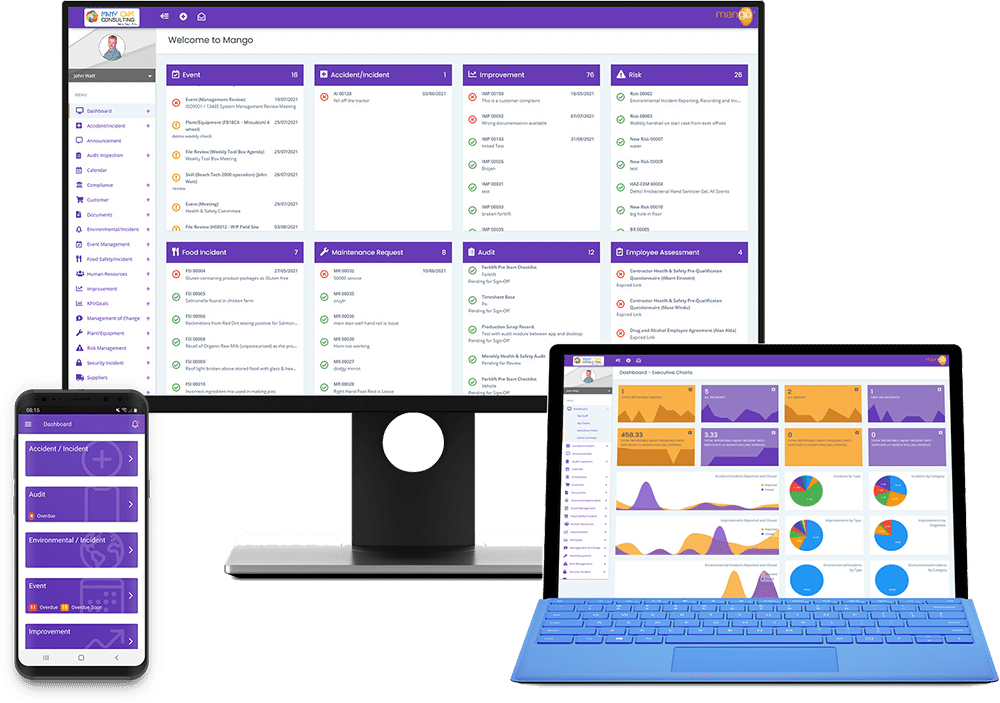 What Price Do You Pay for your Mango QHSE System?
Its important to really understand what you get for your money when it comes to your QHSE Compliance system so in this video, we'll will step through what you get when you signup to Mango and how to get a price.
What Do You Getfor your monthly fee?
This is what you get when you sign up with Mango for yoru QHSE compliance management system and the steps to work out a the investment you'll make.
1. A Company License
Every employee within your organisation can be given access rights to your system. You look after your account. You define what people should see and do in Mango.
4. Access to All Modules
All the modules listed in the Software section are available for you in the monthly fee. We give you all the tools. You decide which modules you want to use across the organisation.
2. The Free App
If you want as many people to be involved and participate in your management systems then make it simple for people to report and record their actions using the mobile app for Android or IOS.
5. Support from a Partner
When you signup you get access to a content expert. Mango partners guide you through the implementation process and decide on the best approach. They also provide on-going support.
3. Upgrades
You always get the latest version of Mango. Any new modules that are added over time are automatically covered by your monthly fee. You decide whether you want to use them or not.
6. Learning Centre
As a Mango User, get early access to free resources like free webinars, blogs, free manuals, forms, checklists, audit reports and other free compliance material to help educate your teams.
Reduce Paperwork, Save Time, Be Compliant
What People Are Saying About Mango
Don't just take our word about how great Mango is, here is the feedback from some of our users.
Kosie H.
Operations Director (legal services)
Ian Prosser
Systems Manager, Hovey Group
Steve C
Production and Logistics Planner and Health and Safety Manager
If you want to check out more independent feedback on how great Mango is head to
Capterra.com
to hear what others think or you can check out a range of case studies
here
direct from the end users.
See Mango In Action
Make a booking now to see how simple it is to integrate your systems, reduce paperwork, save time and be compliant.