Reduce paperwork, save time and be compliant
Why keep wrestling with multiple unconnected systems and spreadsheets, when you can save time and frustration by having your Quality, Health & Safety, Environmental, HR & Infomation Security management systems in one place?

Reclaim your precious time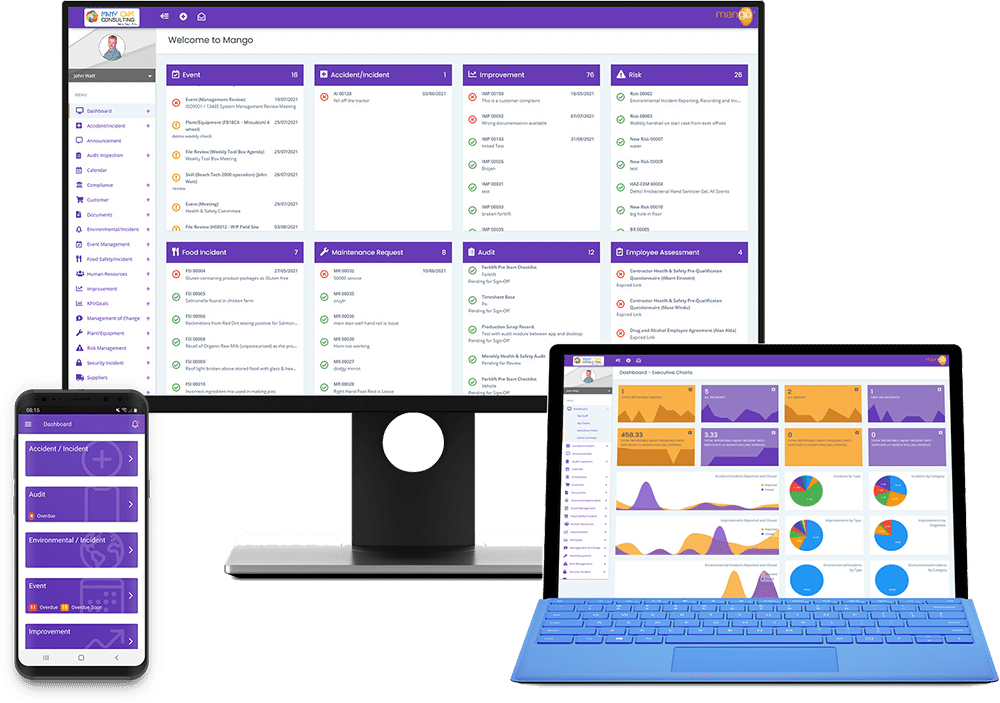 Saving Time with Mango's integrated solution
Save time, cost, effort duplication and rework by combining all of your individual Compliance Systems into one single integrated system.
Make compliance accessable with the FREE Mango App for Android & IOS letting you manage Accidents, Improvements, Events, Audits and more on the move.

The Mango compliance module will let you see the gaps that exist within your legal and other compliance requirements allowing you to manage them more effectively.
The document management system ensures that only the latest version of any document, file or template is available to everyone and that changes are done instantly and available to everyone. Once available, you can also add a record of notification to training documents.
The e-Learning module allows you to set up custom learning content for skills resulting in dramatic cost savings and competent employees across your organisation.
The dedicate improvements module is where you capture all improvements, non-conformances, customer complaints, and audit findings
Method Statement
The Method Statement module allows you to manage all of your Safe Work Method Statements / RAMS in one place, building custom templates and a database of all of your method statements.

Mango helps ensure that your risk management is clear and understood making it simple to record a risk at any time. A guided process ensures the risk is in the correct register.
Reduce Paperwork, Save Time, Be Compliant
See Mango In Action
Combine all of your compliance requirements like Health & Safety, Quality, Environmental, Information Security, HR, Maintenance & Auditing systems into one single cloud based system.
What People Are Saying About Mango
Don't just take our word about how great Mango is, here is the feedback from some of our users.
Kosie H.
Operations Director (legal services)
Ian Prosser
Systems Manager, Hovey Group
Shelley D.
Quality Manager
If you want to check out more independent feedback on how great Mango is head to
Capterra.com
to hear what others think or you can check out a range of case studies
here
direct from the end users.
See Mango In Action
Make a booking now to see how simple it is to integrate your systems, reduce paperwork, save time and be compliant.