Supplier Management Software Made Simple
Making it easy to manage and rate suppliers is simple using Mango's QHSE Compliance software.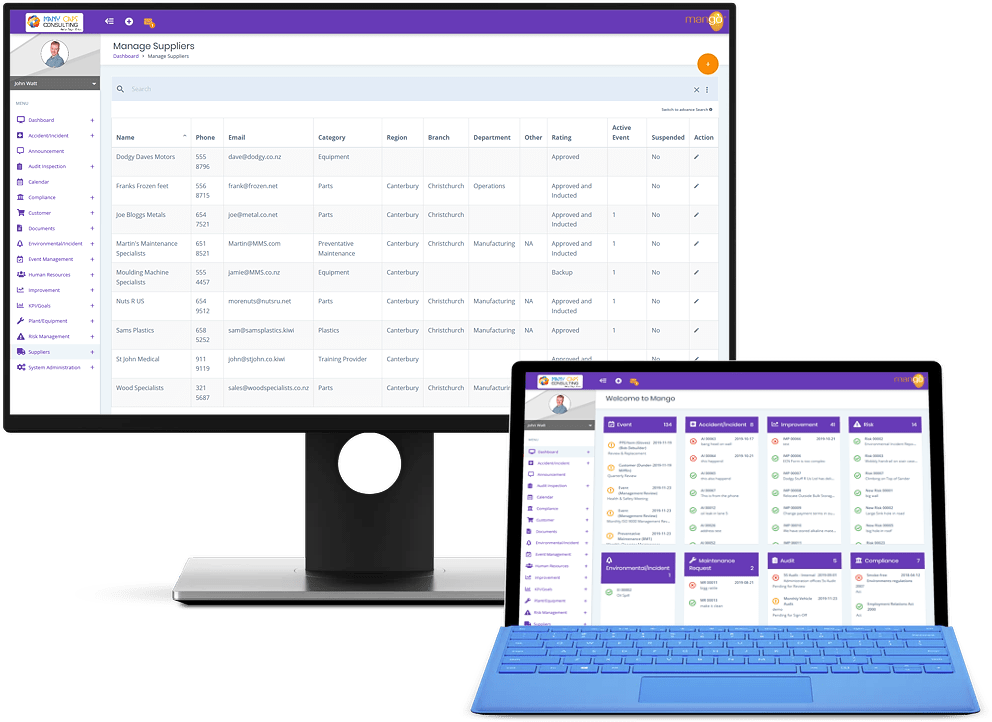 Ready To Integrate your QHSE System?
Make a demo booking now to see how Mango can simplify and integrate your systems.
MANGO - Making Supplier Management Simple
Say good by to seperate systems, rows of folders and spreadhseets. Check out how Mango can make it simple.
Easily Manage your Suppliers
Compliance programmes and customer requirements mean that you have to have readily available information on approved suppliers and sub-contractors to prove they meet your requirements and those of your customers.
Conducting periodic review of your suppliers and sub-contractors is essential but often forgotten or just given a very brief view in the hope that it will meet your compliance requirements, it wont and it wont help your business either.
Mango will streamline the task of ensuring that you have your supplier evaluations done often, consistent and well to ensure that you keep on top of your suppliers and the required information to add value to your business and meet your requirements options. 
Integrate Your Training Suppliers
Every organiation at one point uses external training organiations to ensure their team are meeting the requirements they have. Mango's advanced system integration means that you can cross-link that information between the Supplier and Human Resource modules, allowing you to develope automated training cycles.

Mango gives you the ability to:
Set up your own rating categories
Rate your suppliers and sub contractors based on your rating system
Manage and approve external training suppliers
Get reminder emails from the system to ensure you never miss a review
Easily provide members of the organisation with a list of approved suppliers and their details
Manage only one central database of supplier and contractor information
Record supplier information such as insurances or approved and inducted employees
Allow your supplier employees to have user access to your Mango System so they can update information for you removing duplicate handling of documentation.
Automatically notify training for your team directly to suppliers and sub-contractors saving your time and effort
MANGO - Integrated QHSE Compliance
With the Mango Supplier module creating an Management System that people will actively use and contributes to the business is easier than you think.
Mango for Supplier Management: Usage Examples
Here are some examples of how Mango makes your Supplier Management System easier to use.
Manage Contractors
Manage a single fully comprehensive list of approved contractors that can conduct all your maintenance.
Auditing
Use the Supplier module to automatically trigger notifications about when suppliers are due for audits plus send a notification directly to your suppliers if required.
Training Providers
Manage a single list of your approved training providers that is available across the organisation. Gain the ability to rate providers according to your configured approved ratings. Mango also allows for automatic notification to providers when training is required by your team.
Supplier and Contractor Staff
Record yoru contractor or supplier approved employees and their certifications such as electrical tickets to ensure they are still valid.
Provide Supplier or Contractor employees with access to your Mango system to input data directly.
Easily meet these Standards
Clause 8.4 of ISO 9001
Control a single approved suppliers or sub-contractor list
Although its not a requirement of the ISM code, it is good practice to manage suppliers and sub-contractors
Ensure that only approved suppliers or sub-contractors are used by your business
Have a system that proactively sends notifications when suppliers and sub-contractors need to be reviewed
What People Say About Mango
Don't just take our word about how great Mango is, here is the feedback from some of our users.
"Ability to streamline multiple disciplines that were previously working in silos and using different definitions based on the the main regulating driver (i.e. Safety - WorkSafe, Food Safety - Ministry for Primary Industries). Allowed a central integrated risk management system."
"The system once set up organises the entire process and is set and forget until a reminder comes. This set up reduces resource requirements to meet the standards If someone is away the system makes sure someone knows what is required automated follow up of inaction and reminders. "
"Mango
has made a significant difference to our management of not only compliance related tasks, but also contract management for our various funding contracts, tender related agreements and management of our employee competencies.
"
If you want to check out more independent feedback on how great Mango is head to
Capterra.com
to hear what others think or you can check out a range of case studies
here
direct from the end users.
Think Mango can simplify your compliance processes? You're probably right.
To talk to us about Mango and arrange a demo fill in the form below and we'll be in touch to sort out a time that works for you.