e-Learning Software Made Easy
Get training consistency across your business using the e-Learning in Mango's QHSE Compliance Software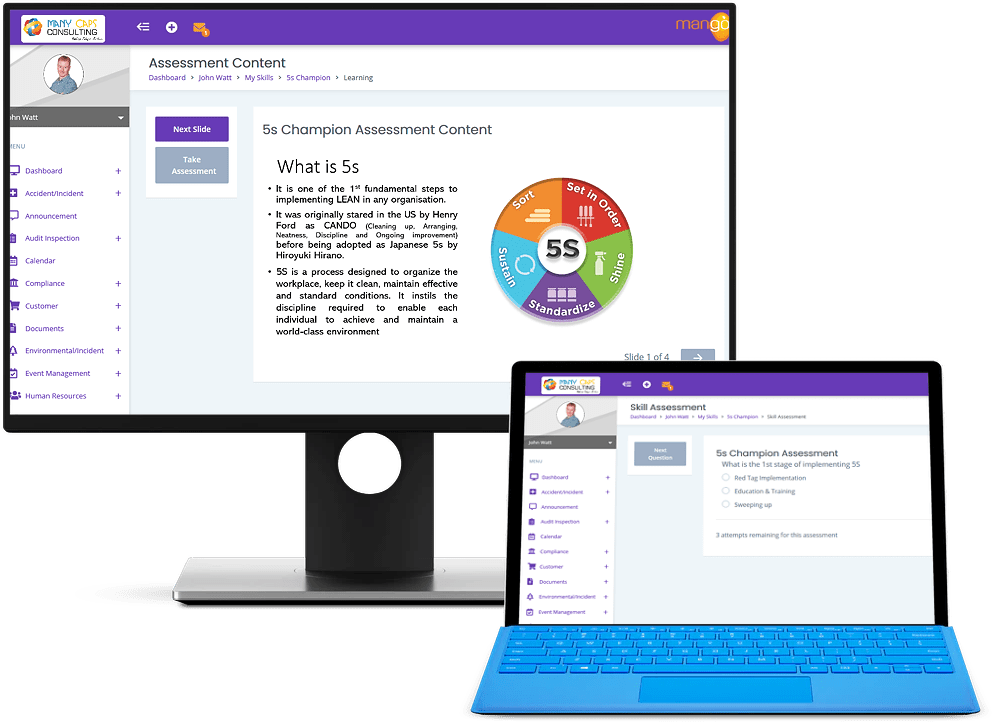 Ready To Integrate your QHSE System?
Make a demo booking now to see how Mango can simplify and integrate your systems.
MANGO - e-Learning Software made Simple
Say good by to seperate systems, rows of folders and spreadhseets. Check out how Mango can make it simple.
Easily manage your internal Assessments
Easily set up any training and assessment programme you need within Mango. Add questionnaires, documents, text, images or embed video's to create the perfect e-Learning. Ensure that everyone in the organsiation is trained against the same standard operating procedures meaning consistency of assessment across yoru teams and across multiple sites. 
Save Money on your training program
Mango's e-Learning module lets you manage your employee training and assessment yourself. That results in dramatic cost savings sicne you don't need to ise external training providers and competent employees across your organisation.
Integrate for Simplicity
With the e-Learning module you can easily create any training program you need. Thanks to Mango's integrated approach you can remove the need for hard copies of training record and easily control your employees training records in one place with e-Learning automatically updating the
HR Module
every time they are taken.
Mango gives you the ability to:
Carry out online inductions for your staff, even before the set foot on site.
Automatically update all your training records and link the training evidence to support the assessment.
Add e-Learning to both new and current employees for any skill.
Record progress throughout the Learning assessment.
let your employees manage their own training
Save both time and money by removing the need for an external organisation to create training content
Automatically notify the skill assessor when an e-Learning has been carried out
MANGO - Integrated QHSE Compliance
With the Mango e-Learning module online training that links directly to yoru HR Training files is easier than you think.
Mango e-Learning: Usage Examples
Here are some examples of how Mango makes your Training & Assessments easier to manage.
Operation Proceedures
Train your staff on the key elements of your operation proceedures at thier pace. Automatically trigger retraining based on your required timeframes.
Track Progress & Close Training Gaps
Automatically track progress in the training and how many attempts your staff have made at the assessment. Use the feedback on where they go wrong to help close the training gaps.
Staff Inductions
Use the e-Learning system to induct your staff, assess them and then automatically capture those results in their HR files.
Easily meet these Standards
Clauses 7.1.2 and 7.2 of ISO 9001
Clauses 7.2 and 8.2 of ISO 14001
Clause 6.2 of ISO 22000
Clause 7.2 of ISO 45001
Clause 4.4.3.2 & 4.4.2 of OHSAS 18001
Clause 4.4.3.2 & 4.4.2 of AS/NZS 4801
What People Say About Mango
Don't just take our word about how great Mango is, here is the feedback from some of our users.
"This programme makes my job in Process control and compliance incredibly easy, takes the guess work out and the reminders are brilliant. The escalating alerts keep everyone in the loop and saves the awkward questions as to whether a job has been done or not."
" Mango has become an integral part of our business. Mango took us from a paper based system that was cumbersome and time consuming to an on-line electronic system that was Certified to AS4801 after just one audit. "
" 
There are no cons with this package. We have 500 employees, some of whom are not so techno savvy, but they can all use the system easily. We also operate in vineyards, packaging, wineries and cellar doors. 
"
If you want to check out more independent feedback on how great Mango is head to
Capterra.com
to hear what others think or you can check out a range of case studies
here
direct from the end users.
Think Mango can simplify your compliance processes? You're probably right.
To talk to us about Mango and arrange a demo fill in the form below and we'll be in touch to sort out a time that works for you.